---
VIRTUAL TOUR
"MIDDAY" (ROOM III.) - Part 1
"Oberhof"
NOW YOU ARE HERE: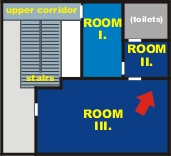 (click on the chart for details)
---
---
---
---
---
---
---
One of the "Thüringerwald victims" was also Uffz. Hans Ammon. We have no plane wreckage
or other exhibits related to him, but have photos donated by his son.
Therefore he can be mentioned on the JG 4 panel (see in section 5)
---
If you find a family member or someone you know on this site,
we would love to hear from you. Please contact us at 517@centrum.cz
Photos on this site may not be reproduced without the written consent of the Museum
Actually you are in Room III - "the Oberhof section"
from here you should continue to
Returns and other loses (Room III)
or select another choice...
e-mail to Jan Zdiarsky
BACK TO THE MUSEUM HOME PAGE





English - Deutsch - Cesky